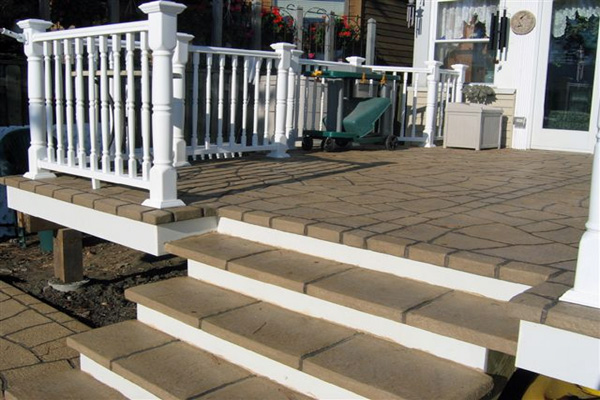 We offer a truly unique product for your wooden deck. You can now have the look of stone or tile in an elevated area and done in a cost effective way. This alternative deck surfacing product can be applied to newly constructed decks or to structurally sound existing decks. While there is no truly maintenance free product on the market today,  our Unique Concrete is as close as you can get, and offers a look much different than the composites or exotic woods.
We create a cast-in-place concrete tile that can create the look of brick or stone that is guaranteed to not delaminate, will not be slippery , and will not have any sharp edges that may be uncomfortable for barefoot traffic. Our unique process allows us to pour a slab of a thinner thickness, meaning less weight is applied to the deck. This solid surface material has the durability of a heavily reinforced concrete slab that is in an elevated area over wood. This product is rot proof, insect proof, fireproof, and easy to maintain while also providing you with a dry area under your deck. With composite systems the only way to achieve a dry area under your deck is with some type of gutter system which is an additional cost. With our product, that additional cost of a gutter system is eliminated. This "Unique Concrete" product is well suited for harsh environments like coastal areas or wet climates.
Imagine the dramatic look of having the same product on your deck, steps, along the sidewalk, and on the area around your pool. This continuity is truly a rich and unique presentation that is not able to be achieved with any other product.