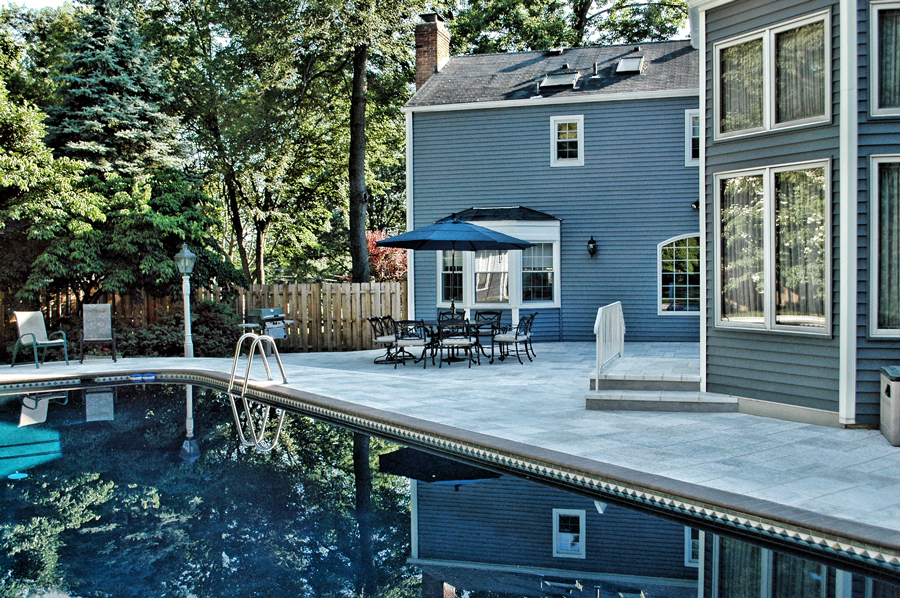 NJ Pool Coping
Searching for pool coping services in New Jersey? Pool coping is a great choice if you want a stylish, visual edge to your pool. Unique Concrete specializes in NJ pool coping design, pool coping installation and pool coping repairs.
What Is Pool Coping?
Pool coping is the term used to identify the cap on the edge of a spa or swimming pool which is mounted on the bond beam. Pool coping covers the concrete edges of the bond beam, conceals the steel projecting from the pool's walls, prevents water from getting behind the pool shell, while integrating the tile and finish of the swimming pool.
NJ Pool Coping Design
In lieu of coping stones, many pool coping designs incorporate stamped decorative concrete material that extends to or slightly over the edge of the pool.
The options available for pool coping are poured in place concrete, pre-cast concrete material, natural stone and tile. (Pavers, flagstone, stones, etc.)
NJ Pool Coping Installation
One of the finishing touches of the pool and pool deck are complete, next comes the installation of your pool coping. Pool coping makes the edge of your swimming pool aesthetically pleasing and unique after installation.
NJ Pool Coping Repair
All pool coping receives frequent abuse from being jumped on, stepped on, and even worn down by pool equipment that is carried around or in the pool. Over time, the area around your pool will begin to show signs of wear. Pool coping tiles or stones may crack, become loose or the concrete may crumble. Pool coping damage can become expensive to repair over time, and may even become hazardous to swimmers.
NJ Pool Coping Contractors
Unique Concrete provides Northern New Jersey pool and spa owners with expert pool coping design, installation and repairs. Contact us today to learn more about NJ pool coping.
---
NJ Pool Coping Patterns Gallery
Browse photos from our pool coping pattern gallery for NJ pool coping design ideas.
[nggallery id=5 template=caption images=24]
For more information on pool coping in New Jersey, please call (973) 697-0659 or contact us online.